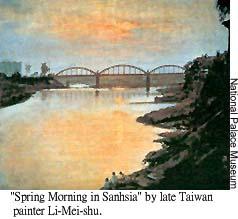 The National Palace Museum is currently exhibiting the works of Li Mei-shu (1902-1983), one of Taiwan's most celebrated artists. His body of work includes pieces done during Japanese colonial rule (1895-1945)--a period during which painting flourished in Taiwan.

  By Chinese reckoning, this year marks the 100th anniversary of Li's birth. To commemorate the occasion, the Li Mei-shu Memorial Gallery, located in Taipei County's Sanhsia, has generously allowed 33 of Li's works to be displayed in the museum's Gallery 104.

  The collection on display focuses on the people and places known to the artist. These works, completed between 1919 and 1980, provide visitors to the gallery with a glimpse of Li's body of work. At a press conference to promote the display, a museum spokesman said that this exhibit demonstrates Li's contribution to Sanhsia, as well as to Taiwan as a whole. The museum, said the spokesman, hopes that members of the public will come to appreciate Li's lifetime of achievements.

  Li is considered a pioneer for bringing Western styles of painting to Taiwan. A native of Sanhsia, Li was born to a wealthy family at a time when most people in Taiwan were very poor. He therefore had the opportunity to pursue his artistic interests. As a young man, the artist was deeply influenced by his father and eldest brother, who instilled in him a keen interest in art and music.

  By 1914, Li had begun to study drawing and ink painting from his Japanese fine-arts teacher, and four years later he entered what is now the Taipei Teachers' College. In his spare time, Li studied art books from Japan.

  Upon graduating, Li enrolled in a summer art class taught by Ishikawa Kinichiro (1871-1945). Shortly thereafter his family allowed him to move to Japan so that he could further his studies. In 1929, he was admitted to the Western Painting Department at the Tokyo School of Fine Arts, where he learned various styles from well-known Japanese painters. It was in Tokyo that Li received a solid background in the Western painting style called realism.

  Li never tired of painting portraits. "The human line is the most wonderful line," he said in 1966. "It is the most beautiful work of God." Li's family, relatives, and friends all sat as models for the artist. "Portrait of Dr. Liu Ching-kang," a 1947 portrait of Li's eldest brother--who adopted his mother's surname--is injected with brotherly sentiment.

  "Tea Picker" and "Seated Lady (3)" are two works Li painted in the early 1960s to demonstrate simple and elegant feminine beauty. He used his own daughters, dressed in costume and posing in front of a suitable background, as models for these paintings. Not only do these works stand as a testament to Li's skill at vivid expression and realistic representation, but they also immortalize important moments in the lives of his subjects.

  One year after he came back from Japan, for example, he painted his nephew's new wife in the impressionist style. His intention was to create a classical oil painting of Taiwan beauty.

  Works such as 1975's "On a Rooftop Garden" and 1979's "Enjoying the Water," depicting Li's daughters-in-law, are representative of the style he employed in his later years. One can see that he has used bright sunshine in these scenes to bring out vivid colors for an aesthetic effect that differs from his earlier work.

  Su Chen-ming, a professor at a visual arts college, acts as a guide to the exhibition. He says he is a fan of Li's landscape paintings, particularly those that depict the Sanhsia area's river scenery. Su admits to being moved by "Washing Clothes by the Clear Stream" and "Morning Along the River," both of which depict the way Taiwan peasant women used to wash their family's clothes in the river in the mornings.

  Referring to "Morning Along the River," Su explained that this painting of women wearing broad-brimmed rain hats and squatting at the riverbank is a link to Taiwan's past. Matriarchs used to gather in groups to do the wash and to exchange gossip.

  Li Ching-yang, the artist's son, pointed out that older people all seem to notice that the women in this painting are Southern Fukienese. The clue, he explained, is that Southern Fukienese women would face the river while washing. Hakka women, on the other hand, kept their backs to the river and their eyes on the shore, so that nobody could sneak up on them.

  Perhaps the most representative of Li's landscape paintings is 1977's "Spring Morning in Sanhsia," in which the curved arches of the Sanhsia Bridge stand enveloped in the early morning light and mist above the Sanhsia Stream. This painting evokes a sense of peace and nostalgia among people familiar with the area.

  Li's affection for his hometown serves as the inspiration for his art. Many of his works depict people and events in Sanhsia. Since his childhood, Li took part in the town's many folk activities, such as the religious festivals, glove-puppet shows and Taiwanese opera performances that flourished in the area at that time. Many of the pieces he did in his teenage years depict traditional theatrical characters.

  Li's famous "Tsu-shih Temple Festival" recreates events taking place in front of the Sanhsia Tsu-shih Temple in the early 1960s, while "Incantation" depicts worshipers inside the temple holding ritual objects and reciting prayers. The evocative yellow, red and brown hues in these two paintings reflect the artist's dedication to capturing the characteristics of his hometown.

  Other subjects favored by Li are everyday objects and women performing household chores. In the eyes of historians and cultural observers, Li's paintings are ethnographic and historical images that can serve as a window to the past. In the 1930s, the artist faithfully recorded family life in Taiwan. Body language, facial expressions, hairstyles, tableware, typical dishes, and women knitting and doing other handicrafts all found themselves duplicated on his canvas. Consistent with the style taught to him by his Japanese mentor, his works from this period are noticeably mild in color.

  Li was insistent that his works be as realistic as possible. Using the technology of photography to help him improve his painting, the artist would take several photographs of models in different postures, paying especially close attention to light and background when painting women. In his later period Li developed a great devotion to public affairs and would often use his camera to do composition work.

  Li personally inspected the clothing and accoutrements of his models, as well as the props in the background. He painstakingly reproduced every minute detail, from his grandson's toys and pets right down to legible handwriting on a calendar in the background of one of his paintings. In Su's opinion, it is Li's attention to detail and dedication to realism that are responsible for his success not only with academics but also with ordinary people.

  Li had three passions: art, education and local politics. Before moving to Japan to advance his studies, the artist spent a short time teaching fine arts at elementary school. After he reached the age of 34, he began a career in local politics, eventually serving as chairman of the Sanhsia farmers' association. During that time he produced works of art depicting the daily lives of farmers on the island--picking wax apples, digging sweet potatoes and working in rice paddies. He even convinced some of the association's clerks to model for him.

  In the 1960s, Li began teaching at universities, nurturing the careers of many students who are now among Taiwan's outstanding painters. Chen Ming-ching, an artist who studied under Li, said he was especially impressed with the economy of style in Li's "Turkeys." The vivid painting of three turkeys, Chen emphasized, "wastes no brush strokes." The public will be able to enjoy the exhibition of Li's work until Aug. 5. A variety of the artist's oil paintings, watercolors, ink paintings and pencil sketches are on display. For the duration of the exhibition, the museum will be holding symposiums and speeches on holidays, as well as parent-child activities designed to help the public learn about the artist and the beauty of Sanhsia.